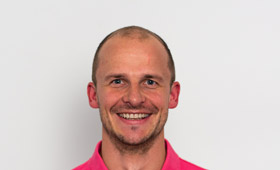 Physiotherapist
Phone: 0664 22 444 24

Mail: tauber-huber@top-physio.at
(Please call to make an appointment!)
Clinics:


Hello, my name is Christoph.
I love to explore new things and expand my horizon every day. Movement not only means exercise or travelling to me. More, it is the UNDERSTANDING of the human body and how it is linked with each other, to function in the spectacular way it does. THAT is what fascinates me and keeps me going!
Since my Childhood, I used to play soccer. This passion has never left me. 
Along the years, I got to know the profession of the Physiotherapist. After my 3-year-training in the field of sales/sports equipment, I decided to change my path and pursue a career as a Physiotherapist. In 2013 I finished my studies.
Since then I have been working as a Therapist, participating in several seminars for continuing education.
It is very important to me, that I am able to offer my patients the best treatment & knowledge possible. Because of that, we can achieve the best results together!
Training and Qualifications
| | |
| --- | --- |
| 2015-2016 | Maitland basic course |
| 2015-2016 | Spiraldynamik ® Basic |
| 2015 | Groin-hip-spine: management of sports injuries |
| 2014-2015 | PNF: Proprioceptive Neuromuscular Facilitation |
| 2014 | Mulligan A/B and C |
| 2014 | IAOM: intervertebral discs de- and re-hydration during lumbago |
| 2014 | Fascial after Typaldos: Module 1, 2 and 3 |
| 2013 | survey findings and treatment of facial paralysis |
| 2013 | Therapeutic climbing after FBL |
| 2013 | NOI: mobilization of the nervous system |
| 2013 | Myofascial Trigger Point Therapy |
| 2012 | Nordic Walking instructor |
| 2012 | Sling Training |
| 2012 | Kinesiotaping |
| 2010-2013 | training as a physiotherapist (BSc) at the FH St. Pölten |
|   |   |
| Membership: | Physio Austria |
References / Experience
| | |
| --- | --- |
| since 2015 | freelance Top Physio |
| since 2013 | freelance work "im Zentrum" in Furth/Göttweig |
| 2013 | Physiotherapist of Team Austria at the 12th European Universities Basketball Championship |
| since 2013 | employed UK Tulln |
Persönliches:
born 1984 in Zwettl/NÖ
 
 
 
Motto:

"You have to try the impossible to achieve the possible"

(Hermann Hesse)

Hobbys:
family, friends and travel
Sport:

Soccer, running, biking, skiing, ski touring,

cross-country skiing, slacklining, and much more …