Master of Science in Physiotherapy
Physiotherapeutist, Sportsphysiotherapeutist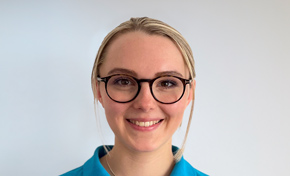 Phone: 0680 50 46 818 
Mail: kamper-kohout@top-physio.at

(Please call to make an appointment!)
Clinics:


Exercise and sports have always been an integral part of my life. My greatest passions are dancing, strength training, and skiing in the winter. After experiencing an ACL tear during my youth, I first came in touch with physiotherapy as a patient and my own journey back to sports sparked my enthusiasm for the profession. What I particularly enjoy about my work is being able to combine my love for movement and sports, my interaction with people, and my passion for medicine.
I have specialized in the field of musculoskeletal physiotherapy. My focus lies in the treatment of injuries and complaints related to the lower extremities (knees, hips, and ankles).
In therapy, I place great emphasis on individual counseling and active approaches that can be complemented by manual techniques. I am delighted to accompany you on your path back to everyday life and sports, whether it be after injuries, surgeries, or in the presence of pain!
Professional experience:
since 2023:
Freelance physiotherapist at Top-Physio
since 2021:
Freelance physiotherapist at PhysioWien
2020-2023:
Physiotherapeutist at Rehabzentrum Dornbach, Physikalisches Institut
2019-2020:
Physiotherapist at the Department of Child and Adolescent Psychiatry, Clinic
Hietzing
Training and qualifications:
| | |
| --- | --- |
| 2023 | Sportsphysiotherapist – ESP Concept |
| 2022 | McKenzie 1 |
| 2020-2022 | Master's degree "Advanced Physiotherapy & Management", University of applied Sciences Burgenland |
| 2020 | "The Shoulder" by Jeremy Louis |
| 2020 | Hip and Knee Course by Erik Meira |
| 2016-2019 | Bachelor's Degree in Physiotherapy, University of applied Sciences Campus Vienna |
| 2016 | High school diploma in Vienna |
Personal:

Born 1998 in Vienna
Sports: Strength Training, Dancing, Skiing, Yoga