Physiotherapist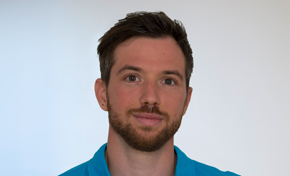 Phone: +43 676 48 72 164

Email: fellner@top-physio.at

(please call to make an appointment!)
Clinics:

Sports and exercise have always been a very important part in my life. For more than 20 years playing soccer made a major part of it, also at a competitive sports level. Already back then during my active soccer career I not only learned a lot about the human body and its functional unit but also gained a good understanding of how important and valuable it is to deal effectively with challenging situations.
My active approach in life as well as my interest in the human body and its complex functioning finally led me to physiotherapy. I strive for continuous development in order to grow with respect to my therapeutic thinking and approach. In addition to my osteopathic studies I put a strong focus especially in the area of sportphysiotherapy.
During therapy, I attach great importance to responding to the individual needs and goals of my patients. I like to provide motivating support and offer solution strategies in order to work actively together on sustainable change. For me this is what builds the basis for a successful therapy and thus the return to the usual activity level or the return to sport.
Education and Certificates:
since 2018:
Student at the International Academy of Osteopathy
2020-2021:

Online training / seminars on the following topics:
Anterior cruciate ligament (ACL), cervical spine: assessment of motor control and training the neck muscles, lumbopelvic control – assess and improve, return-to-soccer, return-to-activity algorithm – the RTAA in competitive soccer, rehabilitation of multiligament injuries in the knee joint

2021:

Blood Flow Restriction Training

2019:

Training as OS COACH- Prehab, Rehab and Athletic at the OS INSTITUT – Movement for Orthopedics and Sports Medicine

2015-2018:
Study of physiotherapy at the University of Applied Sciences of Vienna
professional experience:
| | |
| --- | --- |
| since 2021: | Self-employed, Freelance work group practice Top-Physio |
| since 2021: | Self-employed, Freelance work "Medizin am Leithaberg" in Hornstein |
| since 2018: | Training- and Competitionphysio – Wiener Sportclub |
| 2018-2021: | Self-Employed, Freelance work at Mobile-Physiotherapie.Wien |
personal:
Born 1988 in Vienna
City: Vienna
Hobbies: traveling, reading, playing the guitar
Sports: Surfing, bouldering/climbing, playing spike ball, playing soccer, playing tennis, hiking