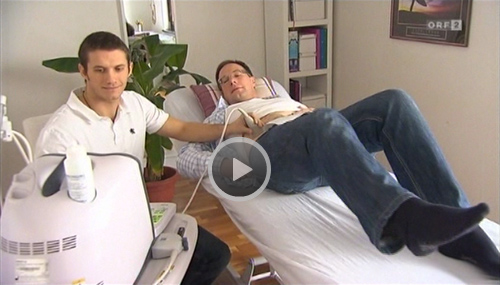 Alternative Dateiversion (vor allem für Apple Geräte) des Videos
From now on, we are offering this brand new therapy concept which is unique in Austria.
Realtime-Ultrasound (RTUS) / Echtzeit-Ultraschall (EZUS)
What's new about it?
Until recently, there was no reliable and adequate method to assess and train the deep muscle layers. RTUS is the perfect tool for doing that.
Those muscles comprise deep abdominal, back and pelvic floor muscles which can stabilise the pelvis and the spine. Numerous studies have shown that there is a correlation between back- groin- and hip-pain and weakness of those very muscles.
Insufficient strength and/or inability to activate them can cause pain for people with sedentary jobs as well as for athletes.
How does RTUS work?
With the aid of the ultrasound device, the relevant muscle groups can be imaged and their strength and activity measured. If they are subject to strengthening this can be done supported by the visual feedback of the machine (you can see whether you're doing the exercise right or not!)
Contrary to radiologists or MD's, we don't make any diagnosis and this method is solely used for the purposes of rehabilitation. The technology is the same as that used for diagnostic ultrasound imaging, but the use is different.
Sounds great, but is there any evidence that it works?
YES! In Australia, this concept has been successfully established during the last 3 decades. Not only sedentary people benefit from RTUS, but also amateur- and elite athletes (soccer, running, Australian Rules football, swimming,…).
So far we have had great clinical experience supported by positive feedback from my clients.
Are there any contraindications?
RTUS is considered as a very safe form of therapy since the intensity of this machine is significantly lower than the therapeutic one.
However, in case of pregnancy, RTUS should not be applied.
Media
article of Stefan Podar published in the german pt_Praxis journal:
Echtzeit-Ultraschall in pt_Praxis, Heft 6 2015
article of Stefan Podar published in the journal of the Austrian Physiotherapy Association
Newspaper article on RTUS in case of Spondylolisthesis: